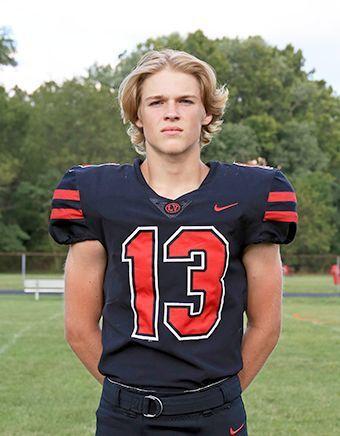 SPRING CHURCH — With coronavirus (COVID-19) protocol in effect on Friday night, the Ligonier Valley football team did not have access to the locker rooms at Owens Field in Apollo. As a result, following their 44-7 setback to Apollo-Ridge, the Rams could only metaphorically wash off the loss.
Making their return to the WPIAL for the first time in more than 50 years, Ligonier Valley sustained its first conference loss since a 19-12 defeat against Penns Manor Area on Oct 23, 2015.
Ligonier Valley falls to 0-1 in WPIAL Class 2A Allegheny Conference play, while Apollo-Ridge sits at 1-0.
"That's a really good football team," Ligonier Valley head coach Roger Beitel said of the Vikings, who return the vast majority of their players from a seven-win team in 2019. "They have great weapons at all the necessary positions. They got nice, big offensive linemen. They just made plays."
Most of those plays the Vikings made came in the second quarter, when Apollo-Ridge outscored Ligonier Valley 34-0. A pair of Rams turnovers led to two quick-strike scores for Apollo-Ridge, which leaned heavily on its senior-laden group. Ligonier Valley, meanwhile, has just one senior on the roster this year after graduating 16 from last year's team that went 12-1 in District 6.
"You just saw our lack of experience just take over," Beitel said of the second quarter. "It just quickly snowballed, and we couldn't recover from it."
By the time the Rams did recover, the mercy rule was already in effect. Subsequently, neither team scored in the final 24 minutes.
The first half, however, featured nothing but scoring drives for Apollo-Ridge, beginning with a time-consuming series to open the contest. The Vikings ran 12 plays and used more than half of the first-quarter clock, culminating with a 35-yard field goal by Gavin Cole.
After the Rams first drive resulted in a three-and-out, the Vikings showed their quick-strike ability, as senior quarterback Jake Fello connected with Dom Reiter for a 49-yard touchdown on the first play of the drive.
Ligonier Valley responded just 30 seconds later, however, as Grant Dowden hauled in a short pass from Haden Sierocky near the left sideline, broke a tackle and tight-roped the chalk line for a 66-yard score, making it 10-7.
"Grant made a great catch and then he did the rest with athleticism and used his speed, and pulled away from some guys and outran some angles," Beitel noted of his junior receiver.
The outlook changed drastically early in the next quarter, though, as Apollo-Ridge struck for a 16-yard touchdown from Fello to Keighton Reese less than a minute into the second.
On the Rams' first play from scrimmage on the subsequent drive, Reiter intercepted Sierocky's pass, allowing the Vikings to begin the drive at the Ligonier Valley 16-yard line. On the ensuing play, Fello connected with Klay Fitzroy, extending the lead to 24-7.
Another turnover, this time on a fumble by running back Nick Beitel, gave Apollo-Ridge the ball deep in Rams' territory again, and senior Logan Harmon capped the drive with a 13-yard touchdown run, the first of his two consecutive rushing scores.
The Vikings finished the half emphatically, as they engineered another scoring drive that culminated with a 32-yard connection over the middle from Fello to Fitzroy, extending the Apollo-Ridge advantage to 44-7.
With the outcome already decided at the intermission, Beitel and the Rams seemingly embraced the chance to improve in the second half.
Reserves such as quarterback Broderick Schreyer and running back Lanigan McCulty, both sophomores, received valuable snaps, and helped engineer a lengthy drive late in the fourth quarter. However, the clock expired with the Rams inside the 10-yard line.
"We have to be positive. They know this is just a growth experience for us," Beitel said. "We're going to keep fixing with reps. We're going to keep coaching them with game experience."
While Beitel admitted that the Vikings' blitz scheme proved too much for his team to handle for most of the night, he did highlight the Rams' improved tackling in the second half, and also praised junior defensive end Jacob Hay for his efforts.
"I thought Hay was a chaos player out there," he detailed. "When he wasn't making plays, he was getting held. He really played well coming off the edge."
Sierocky went 5-of-13 passing for 109 yards, with one touchdown and one interception. Dowden led the Rams with two catches for 72 yards, including the lone Ligonier Valley score, while McCulty paced the ground game with 30 yards on five carries.
For Apollo-Ridge, Fello went 12-of-17 for 207 yards and four touchdowns. Fitzroy hauled in seven passes for 126 yards and two scores. Harmon, meanwhile, compiled 116 yards on 15 carries and a pair of touchdowns.
Ligonier Valley has a non-conference tilt up next, as the Rams will travel to Frazier next Friday for a 7 p.m. kickoff. Likewise, Apollo-Ridge will head to Freeport for a non-conference clash.
Apollo-Ridge 44 Ligonier Valley 7
LV AR
First downs 11 18 Rushes-yds 21-60 30-150 Passing yds 120 207 Passes-int 8-17-1 12-17-0 Fumbles-lost 2-1 0-0 Penalties-yds 3-25 10-90 Punts-avg 3-26.7 1-30.0 Total offense 180 357
Score by Quarters
Lig. Valley 7 0 0 0 — 7 Ap-Ridge 10 34 0 0 — 44
Scoring
AR— Cold 35 field goal AR — Reiter 49 pass from Fello (Cole kick) LV — Dowden 66 pass from Sierocky (Golden kick) AR — Reese 16 pass from Fello (Cole kick) AR — Fitzroy 16 pass from Fello (Cole kick) AR — Harmon 13 run (Cole kick) AR — Harmon 25 run (kick failed) AR— Fitzroy 32 pass from Fello (Cole kick)
Rushing
LV— McCulty 5-30; Beitel 9-14; Mundorff 2-10; Kreiger 1-6; Schreyer 2-6; Sierocky 2-(-5) AR— Harmon 15-116; Curci 2-17; Fitzroy 1-9; Fello 6-7; Reese 3-5; Reiter 3-(-4)
Passing
LV— Sierocky 5-13-1-109; Schreyer 3-4-0-11 AR— Fello 12-17-0-207
Receiving
LV— Dowden 2-72; Beitel 2-35; McCulty 1-11; Kreiger 1-3; Higgins 1-2; Lonas 1-(-3) AR— Fitzroy 7-126; Reiter 1-49; Reese 3-30; Harmon 1-2