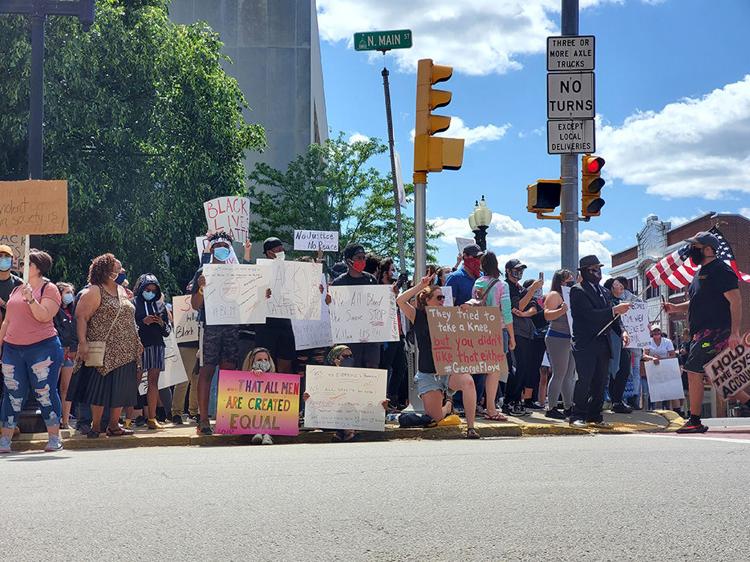 Citing the violence of Saturday's protests across the United States, organizers and participants wanted Sunday's protest in Greensburg to be a peaceful one.
Lisa Roberts, 41, of Greensburg co-organized the protest where more than 200 gathered in downtown Greensburg in response to the recent killing of George Floyd in Minneapolis.
The protest was planned Saturday night, and Roberts says from the start the goal was: "Peaceful, peaceful, peaceful."
Protesters began gathering at 2 p.m. and by 3 o'clock dozens crowded at the corner of Otterman and Main streets near the Westmoreland County Courthouse.
Several protesters held signs, ranging from: "Where is the love?" to "Fix the system" and "Stop racism now. RIP George Floyd."
Around 3:30 p.m., the group marched two blocks to nearby St. Clair Park where protesters laid flat on their stomach, with hands behind their back for nine minutes — roughly the same amount of time former Minneapolis officer, Derek Chauvin, knelt on Floyd's neck as he pleaded for air.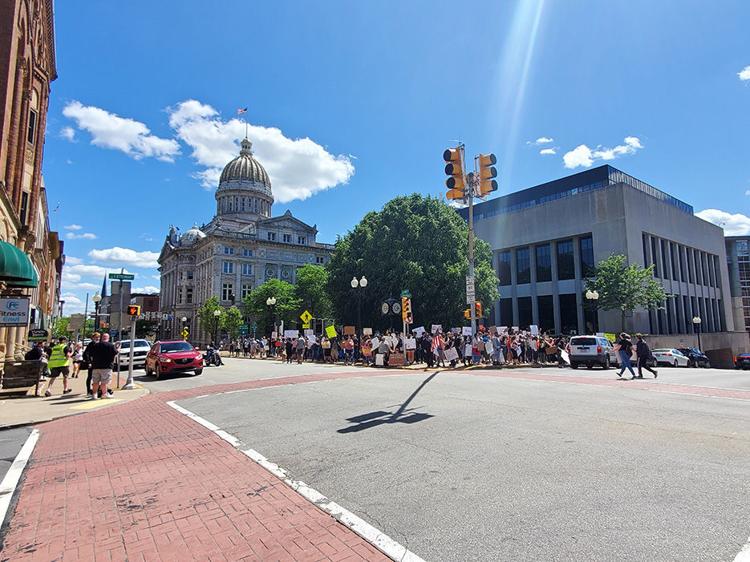 During this time, protesters repeated aloud, "I can't breathe." A moment of silence lasted for the remaining four minutes.
"He said he couldn't breath," Roberts said. "As we laid there, I had to stop many times trying to say that."
Floyd's death prompted Roberts to do something in the Greensburg community.
"It's too much going on in the world, I can't take it anymore," Roberts said. "I told my son what had happened with George Floyd and the first thing out of his mouth was, 'What if I'm next?'"
Roberts met with the Greensburg Police Department early Sunday to get permission for Sunday's protest.
"I went in there with no attitude, no anger. I just wanted to sit down and discuss it," Roberts explained. "Instead of seeing all these posts on Facebook, which really get out of hand, I wanted them to know what the exact plans were."
Roberts says she asked Greensburg police if they could block off the streets where protesters marched from the courthouse to St. Clair Park.
"They said they didn't want a real heavy police presence to incite anything," she added.
Fifteen-year-old co-organizer Abigail Fisher created a Facebook page on Saturday night to plan Sunday's protest.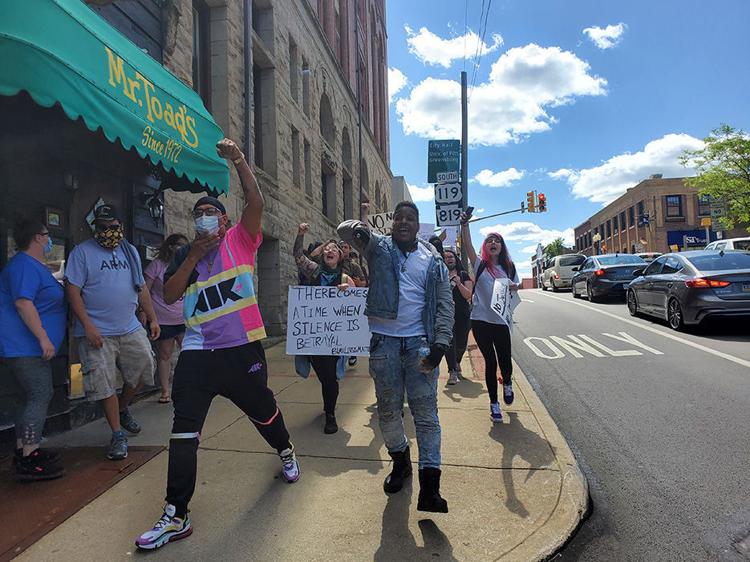 "I got the idea of organizing the event because I realized that not everyone from this area could get out to Pittsburgh to help protest," said Fisher, who lives in New Alexandria, but is from New York. "By doing it out here, more people are able to come."
As she stood with dozens of protesters near the courthouse lawn, Fisher said she was encouraged by the turnout.
"I am very surprised. I did not expect this many people to come or respond to the (protest)," she said.
Cars driving along Otterman and Main streets honked and waved as protesters cried chants ranging from "No justice. No peace." to "What's his name? George Floyd."
Shawn Short, 28, of Greensburg stood front and center of protesters gathered at the corner of Otterman and Main.
"Me and (Fisher) talked about making this happen because we need to be heard in a peaceful way," said Short, a black resident of Greensburg. "We want to be the first people to have a peaceful protest. We're not going to burn (anything). We're not going to riot."
As he looked around at fellow protesters, he said: "This is how you protest. This is how you do it."
Robert Stafford, Greensburg police captain, reported no incidents.
"It was a very peaceful event," Stafford said. "There were no problems."
Stafford commented on the relationship between the Greensburg community and its police force.
"Greensburg is a tight community," he said. "...We appreciate the feedback we get."
As Sunday's protest wrapped up, Roberts expressed joy in how the demonstration went.
"I am so thrilled. This makes me feel on top of the world right now, especially for my kids to witness this," Roberts said. "We may not be able to change anything with this in Greensburg, with maybe a couple hundred people out ... But at least everybody here knows and we have allies."
Protesters dispersed around 4 p.m., shortly after the demonstration concluded at the park. A Greensburg resident led a brief prayer with remaining protesters, in closure.
A smaller group continued protests back at the courthouse past 4 p.m.
There were no signs of counter-protesters.
Most protestors wore face masks as the COVID-19 pandemic continues.
A "peaceful march in honor of George Floyd," was planned for Latrobe today, June 1, according to a Facebook event page.
Organizer Michael Anderson posted that marchers would congregate near Memorial Stadium in Legion-Keener Park around noon.