Moira Richardson wanted to do something to help others when the COVID-19 virus emerged, but she didn't know what.
"I felt helpless, and I thought that if there's something I can do, I will do it," she said.
She read a Facebook post about a group in another state that was making cloth masks to fill the shortage for first responders, hospitals and others who needed them. So she started making them to send to wherever they were needed. Then she read about a hospital and other people requesting masks.
"I thought that we needed a group so everyone could get together and make masks faster and more efficiently," she said.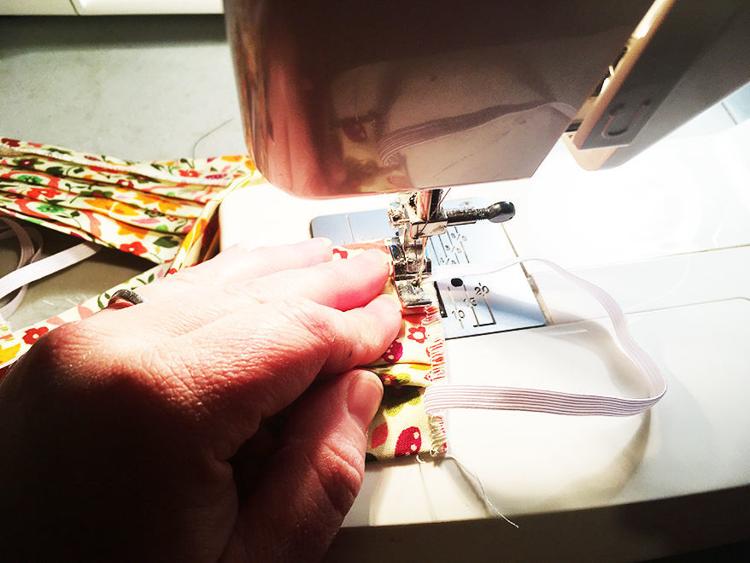 Richardson, who lives in Mount Pleasant Borough, launched Mask Makers SW PA on March 20.
Since then, members have sewn and donated more than 2,000 masks and there are requests for about 2,500 more.
She's assisted by team leaders Linda Marino of Youngwood and Amy Hess of Connellsville. Their roster lists mask makers from Latrobe, Derry, Greensburg, Acme, Mount Pleasant, Ligonier, and many other towns in Westmoreland, Allegheny and Butler counties.
The group has 345 members that include sewers, people requesting masks, supporters and followers.
"They're people of all skill levels, from beginners to people with a lot of experience," Richardson said.
Several patterns are available on the internet, and the most popular are two layers with pleats in front and slits in the back for inserting filters. Directions call for 100% cotton fabric.
Wearing homemade masks is discussed daily in the news. Some sources claim that they're only 90% effective at stopping the virus from spreading. Richardson has seen reports of only 50%.
"That's better than nothing," she said. "If it's at the point where people have nothing, we're going to give them something. And we send out disclaimers with the masks, that they aren't as effective as the commercial ones."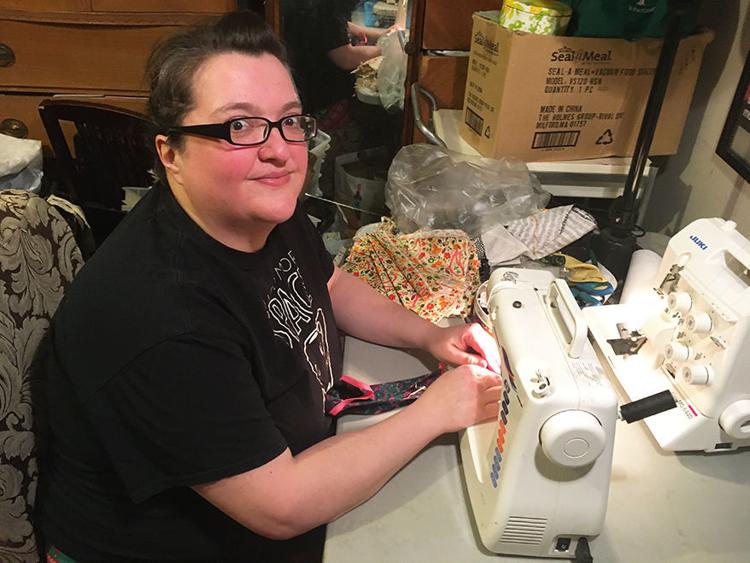 Requests are posted for hospitals and nursing homes (including Torrance State Hospital and Hempfield Manor), hospice and home healthcare services, first responders and individuals who need or want to wear masks. Some hospitals will not accept them.
Nancy Miller of Derry Township has been sewing quilts and clothes for family members for about 40 years.
"When I saw the group on Facebook, I thought that I have the fabric, I have the elastic and all the supplies, so I could do it," she said.
The project reminds her of stories that she heard about how people on the home front knitted items for soldiers serving in World War II.
"It feels good to do something to help, and this is something I can do," she said. "And it's taking off."
Rita Berkheimer of Hempfield had a lot of fabric on hand from making toys for cats and kittens. She got a pattern for masks from member Barb Matheny of Mount Pleasant, who's making masks for Wabtec Rubber Products of Greensburg, where Berkheimer works. Wabtec donated 50 yards of cotton fabric and some thread.
"What's nice is that we sewers have our own stash and everybody is using up their fabrics, and no one is charging anyone for the masks," Berkheimer said. "Everybody is doing their part. Since I'm working, I'm not making as many masks as the ladies who are home all day, but every little bit helps."
Shari Urick of Acme makes memory bears for her home business Sew We Remember.
"I have lots of material," she said. "I started making masks on my own and I didn't have anybody to give them to. I work at Viking Sewing Gallery inside Joann Fabrics in Greensburg, and a coworker referred me to the group. That's a better way to get them out, rather than me doing it on my own."
So far, Urick has made about 100 masks in a mixture of patterns and sizes, including some with straps rather than the elastic that's getting scarce.
"I found a roll of elastic in my purse that I forgot that I had, and it was like finding gold," she said. "That's 21 masks that I can make."
Alison Camp of Derry Borough has been sewing most of her life and opened Camp Stitches from her home studio in 2016. She makes memory bears, quilts and pillows, and one of her customers asked if she was making masks. She found cotton fabric in her stash, purchased more, selected a pattern and started making masks for the group.
Because there's a shortage of elastic, many sewers are improvising with chair ties, the inside strands of bungee cords, elastic headbands and pony tail holders.
"I'm looking to fill requests from people close enough so that I don't have to drive too far to deliver them," Camp said.
Richardson coordinates collecting and distributing masks from her home. To avoid contact, she has her porch set up so members can drop off their masks to be sorted and designated for delivery, or they can pick up masks to take them to their destinations. Members also drop off or pick up supplies on her porch.
Richardson is an artist with a studio in downtown Greensburg, but now is staying home. She's made more than 250 masks.
"I'm in no way an expert on making medical masks and I consider myself a beginning sewer," she said. "But this keeps me busy doing something helpful."
Members share hints to make the sewing go faster or turn out better.
"Amy Hess who's on our team timed herself and her fastest time for one mask was three minutes and 20 seconds," Richardson said.
Not everyone can sew that fast, nor make as many as some others do. Everybody does what they can, and every mask counts.
Richardson praises first responders, medical personnel and everyone who's doing essential jobs, whether they're on hospital staffs, making deliveries or working in businesses that remain open. She also has high praise for volunteers like the mask makers who step up to serve.
"Like Fred Rogers said, 'Look for the helpers,'" she said.
The group is seeking more sewers and also elastic, which is in short supply. To see the masks and sewers, to volunteer, donate or request masks, join Mask Makers SW PA on Facebook.